We provide our clients with the best possible advice and service
Hear from real people about the value our professional advice has brought to them.
What others are saying about Toro Wealth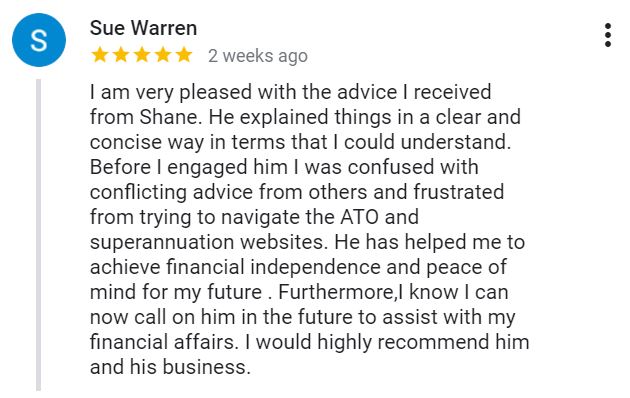 "If you want independent advice for your situation to secure your financial future, then I highly recommend Toro Wealth" 
"They were easy to work with, it was a very seamless process, just everything was really wonderful. I do highly recommend them, absolutely!"
"For anyone thinking of working with Toro I would highly recommend their professionalism and the confidence they gave me for my retirement plans. Thank you Shane and all the team at Toro Wealth"
"It is really worth getting proper financial advice from true specialists as it will end up saving thousands in such an incredibly complex area with everyone's situation being different. Highly recommend this firm. Appreciated their timely and professional advice and caring approach."
Jaleen C.
"Shane and his team give a no nonsense view of the financial planning world . I want to concentrate on my business without neglecting my super ."
Anthony B.
"Highly recommend Shane for intelligent, knowledgeable financial advice. Always provides sound insight and gives me a high quality assurance of my direction. I have utilised his services while still working and building my career with the ultimate goal to care for my children. And he is an easy going, all round nice guy to deal with…bonus!"
Judy Q.
"I am extremely grateful for the extensive help and advice of Shane."
Robin J.
"Shane was very professional and provided the right advice."
Eddie C.
"Excellent service and advice from Shane. He is thorough, and explains all concepts and details of my portfolio in layman's terms."
David J.
"Shane was fabulous to work with – he provided extensive information and a range of financial scenarios for us to explore. I'd highly recommend Shane for patience, attention to details, friendly, open approach and excellent advice."
Jo H.
"Shane was exemplary in his advice and support during this time. He ensured that our finances were taken care of and we could not be happier with the result."
Denise A.
"We found Shane to be friendly, courteous and above all, very professional in the advice he gave us, setting out clear guidelines of what the outcomes would be. We would not hesitate to recommend him to anyone seeking ethical and non-biased financial advice."
Linda and Robert H.
"The Toro Wealth financial advisers really helped us feel much less overwhelmed about our financial goals. They helped us make sense of our situation and put us on the right track. Thank you!"
Lani E.
"I'm very impressed with Toro Wealth. I really appreciated Shane's honesty right from the start and he made sure I was completely aware of how we would work together. There was no financial mumbo-jumbo. He helped me get a better idea of my own goals, and put together a plan to help me achieve it. Highly recommend!"
Shaun M.
""We could not be happier with the result. Shane was exemplary in his advice and support during this time. He ensured that our finances were taken care of and we could not be happier with the result."

Denise A.
"Shane provided excellent accounting / financial advive. His extensive knowledge , professionalism and understanding was invaluable and greatly appreciated.
Many thanks."
Andrew K.
Let's get you retirement ready
Get in touch now and find out how we can help you reach your goals faster